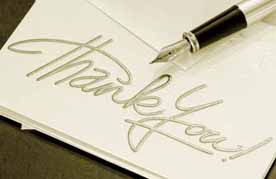 Q. In this day of electronic communication, is it really necessary to write a hand-written thank you note for each wedding present? –Jodie

A. Hi Jodie, the guests that you invite to your wedding are supposed to be people that you care about, and want to share the most important day of your life with. A hand written note is your way of saying thank you for being a part of our special day.

Your guests have probably gone out and bought a new dress, had their hair done, possibly hired a babysitter or even taken time off of work to attend, as well as getting a gift for you and your husband. T

hank you notes need to be personalized. Guests look forward to hearing that their thoughtfulness was appreciated.Make a note about what they gave you, and how you and your new husband will be using it in your new life together.

An example would be:

Dear Nana and Papa, Thank you so much for the beautiful tea service.I have always loved the one you have at your house. Please join us the Sunday after next (November 16th) at 2 p.m. for tea and sandwiches.

We will use our new tea service!

With love,

Cynthia and Matthew

Etiquette says that a thank you note needs to be sent out within three months of receiving a gift. A couple is considered newlyweds for a year, so this means guests have up to a year to send a gift. This is a great new venture that you and your husband can do together.

____________

Tracey Manailescu is the manager of the Wedding Planners, which is Canada's largest wedding coordination firm, Vice President and instructor of "The Wedding Planners Institute of Canada Inc." (WPIC). Tracey is also a Producer of the Professional Wedding Planners Conference.