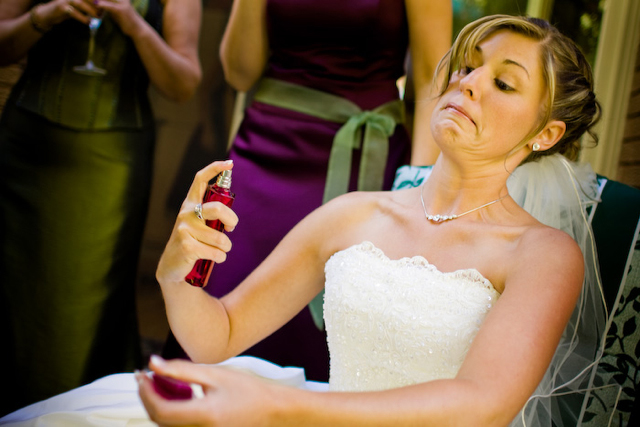 As the organ crescendos, all eyes turn to face a vision in white. Her eyes sparkle beneath a delicate lacy veil; her pristine wedding dress glides over the floor as she walks down the aisle. The slight scent that lingers as she passes will forever remind her guests of her big day.
Scent has the strongest link to memory of all the senses. Consider your wedding day fragrance carefully. When picking your perfect bridal scent, marry the notes with the style of gown you will be wearing. Consider the season and air temperature too. Lighter notes such as pale florals, green, citrus notes or fresh rose-based scents work well with warm climates and are ideal for spring and summer weddings.
Try heavier notes of vanilla, woods, spices and darker florals such as jasmine, peony, spicy roses and gardenia for colder climates in the fall and winter.
Always apply the scent on the pulse points before you dress. One spray on the inside of the wrists and décolletages should suffice. Wait a good five minutes and allow the scent to dry before dressing. Never apply after you have dressed, fragrance oils can stain and lacy brown collars are not a pretty sight for your wedding album shots.
Think of all the cheeks you will be kissing and how you wish to be remembered through a subliminal sniff.
Your honeymoon scents should also be carefully considered and discerning as well. Are you going to be in a hot or cold climate? Will your evenings be passionate and lingering? So should your scents.
Many brides will receive the same bottle of scent as a gift, throughout their marriages. Every time he smells your scent, he will be a groom all over again. What bride wouldn't want her honeymoon to last a lifetime?